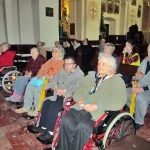 Dlaczego nie? W ramach realizacji zadania publicznego "Jak przygoda to tylko w Tuchowie" współfinansowanego przez Gminę Tuchów, 14 osobowa grupa Mieszkańców pod opieką 11 pracowników i wolontariuszy udała się na Lipowe Wzgórze. To tutaj dzięki p. Karolinie Kluzek – przewodnikowi sanktuaryjnemu – uczestnicy wyprawy zwiedzili sanktuarium – bazylikę mniejszą w Tuchowie, a następnie podziwiając ogrody klasztorne przeszli również do całorocznej ruchomej szopki, muzeum misyjnego i sanktuaryjnego.
Ani deszczyk majowy – dzięki parasolom zakupionym przez Fundację, ani schody – dzięki kilkunastoosobowej grupie silnych i wspaniałych braci kleryków nie były nam straszne!
Organizatorem wyprawy była Fundacja Dzieło Miłosierdzia im. św. ks. Zygmunta Gorazdowskiego.
Warning
: Undefined property: stdClass::$modified_date in
/home/users/dpjtuchow/public_html/wp-content/plugins/photo-gallery/frontend/models/model.php
on line
34Warning
: Undefined property: stdClass::$modified_date in
/home/users/dpjtuchow/public_html/wp-content/plugins/photo-gallery/framework/WDWLibrary.php
on line
1382Warning
: Undefined property: stdClass::$modified_date in
/home/users/dpjtuchow/public_html/wp-content/plugins/photo-gallery/framework/WDWLibrary.php
on line
1383Warning
: Undefined property: stdClass::$modified_date in
/home/users/dpjtuchow/public_html/wp-content/plugins/photo-gallery/framework/WDWLibrary.php
on line
1382Warning
: Undefined property: stdClass::$modified_date in
/home/users/dpjtuchow/public_html/wp-content/plugins/photo-gallery/framework/WDWLibrary.php
on line
1383Warning
: Undefined property: stdClass::$modified_date in
/home/users/dpjtuchow/public_html/wp-content/plugins/photo-gallery/framework/WDWLibrary.php
on line
1382Warning
: Undefined property: stdClass::$modified_date in
/home/users/dpjtuchow/public_html/wp-content/plugins/photo-gallery/framework/WDWLibrary.php
on line
1383Warning
: Undefined property: stdClass::$modified_date in
/home/users/dpjtuchow/public_html/wp-content/plugins/photo-gallery/framework/WDWLibrary.php
on line
1382Warning
: Undefined property: stdClass::$modified_date in
/home/users/dpjtuchow/public_html/wp-content/plugins/photo-gallery/framework/WDWLibrary.php
on line
1383Warning
: Undefined property: stdClass::$modified_date in
/home/users/dpjtuchow/public_html/wp-content/plugins/photo-gallery/framework/WDWLibrary.php
on line
1382Warning
: Undefined property: stdClass::$modified_date in
/home/users/dpjtuchow/public_html/wp-content/plugins/photo-gallery/framework/WDWLibrary.php
on line
1383Warning
: Undefined property: stdClass::$modified_date in
/home/users/dpjtuchow/public_html/wp-content/plugins/photo-gallery/framework/WDWLibrary.php
on line
1382Warning
: Undefined property: stdClass::$modified_date in
/home/users/dpjtuchow/public_html/wp-content/plugins/photo-gallery/framework/WDWLibrary.php
on line
1383Warning
: Undefined property: stdClass::$modified_date in
/home/users/dpjtuchow/public_html/wp-content/plugins/photo-gallery/framework/WDWLibrary.php
on line
1382Warning
: Undefined property: stdClass::$modified_date in
/home/users/dpjtuchow/public_html/wp-content/plugins/photo-gallery/framework/WDWLibrary.php
on line
1383Warning
: Undefined property: stdClass::$modified_date in
/home/users/dpjtuchow/public_html/wp-content/plugins/photo-gallery/framework/WDWLibrary.php
on line
1382Warning
: Undefined property: stdClass::$modified_date in
/home/users/dpjtuchow/public_html/wp-content/plugins/photo-gallery/framework/WDWLibrary.php
on line
1383Warning
: Undefined property: stdClass::$modified_date in
/home/users/dpjtuchow/public_html/wp-content/plugins/photo-gallery/framework/WDWLibrary.php
on line
1382Warning
: Undefined property: stdClass::$modified_date in
/home/users/dpjtuchow/public_html/wp-content/plugins/photo-gallery/framework/WDWLibrary.php
on line
1383Warning
: Undefined property: stdClass::$modified_date in
/home/users/dpjtuchow/public_html/wp-content/plugins/photo-gallery/framework/WDWLibrary.php
on line
1382Warning
: Undefined property: stdClass::$modified_date in
/home/users/dpjtuchow/public_html/wp-content/plugins/photo-gallery/framework/WDWLibrary.php
on line
1383