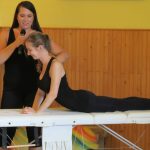 W niedzielne popołudnie (26.07.2015) w świetlicy DPJ ponad 30 osobowa grupa osób zainteresowanych promocją zdrowego stylu życia, wzięła udział w Spotkaniu z Gościem Miesiąca, którym była Ewelina Okaz – mgr fizjoterapii, absolwentka Uniwersytetu Rzeszowskiego, obecnie zatrudniona w DPJ. W prelekcji poprzedzającej ćwiczenia praktyczne fizjoterapeutka omówiła m.in. takie tematy: najczęstsze błędy w wykonywaniu codziennych czynności, choroba zwyrodnieniowa, a aktywność fizyczna, profilaktyka przeciw żylakowa i przeciw zakrzepowa, zaopatrzenie ortopedyczne, jak dbać o swój kręgosłup. Adresaci prelekcji, a były to osoby w wieku kilku – kilkunastu i kilkudziesięciu lat byli zaskoczeni – sądząc po reakcjach – wieloma zagadnieniami rozważanymi w kontekście fachowej wiedzy. ,,Siedzieć i nic nie robić" – to najbardziej szkodliwa dla zdrowia postawa.
Następnie Ewelina Okaz sama bądź przy udziale ochotników zaprezentowała ,,15 ćwiczeń dla każdego" na leżance, z taśmą Thera-Band, ciężarkami, piłką i kijkami (Nordic Walking). Mieszkańcy DPJ uczestniczący w codziennych zajęciach prowadzonych przez p. Ewelinę w sali rehabilitacyjnej DPJ także chętnie przedstawili proste wydawałoby się ćwiczenia kończyn górnych. W czasie spotkania uczestnicy zadawali wiele pytań, na które fizjoterapeutka odpowiadała w wyczerpujący sposób, demonstrując dodatkowo np. zastosowanie metody kinesiotaping. Jak zostanie wykorzystana spora dawka wiedzy jaką otrzymali uczestnicy spotkania zależy już od nich samych, czy wystarczy samodyscypliny i dobrej woli do realizacji planu, by zdrowszym być?
Spotkanie zorganizowane przez Fundację Dzieło Miłosierdzia Im. Św. Ks. Zygmunta Gorazdowskiego, było współfinansowane przez Gminę Tuchów w ramach realizacji zadania publicznego pod nazwą: ,,Aktywizacja seniorów z udziałem wolontariatu młodzieżowego – Kochaj bliźniego swego na wzór świętego Gorazdowskiego".
Warning
: Undefined property: stdClass::$modified_date in
/home/users/dpjtuchow/public_html/wp-content/plugins/photo-gallery/frontend/models/model.php
on line
34Warning
: Undefined property: stdClass::$modified_date in
/home/users/dpjtuchow/public_html/wp-content/plugins/photo-gallery/framework/WDWLibrary.php
on line
1382Warning
: Undefined property: stdClass::$modified_date in
/home/users/dpjtuchow/public_html/wp-content/plugins/photo-gallery/framework/WDWLibrary.php
on line
1383Warning
: Undefined property: stdClass::$modified_date in
/home/users/dpjtuchow/public_html/wp-content/plugins/photo-gallery/framework/WDWLibrary.php
on line
1382Warning
: Undefined property: stdClass::$modified_date in
/home/users/dpjtuchow/public_html/wp-content/plugins/photo-gallery/framework/WDWLibrary.php
on line
1383Warning
: Undefined property: stdClass::$modified_date in
/home/users/dpjtuchow/public_html/wp-content/plugins/photo-gallery/framework/WDWLibrary.php
on line
1382Warning
: Undefined property: stdClass::$modified_date in
/home/users/dpjtuchow/public_html/wp-content/plugins/photo-gallery/framework/WDWLibrary.php
on line
1383Warning
: Undefined property: stdClass::$modified_date in
/home/users/dpjtuchow/public_html/wp-content/plugins/photo-gallery/framework/WDWLibrary.php
on line
1382Warning
: Undefined property: stdClass::$modified_date in
/home/users/dpjtuchow/public_html/wp-content/plugins/photo-gallery/framework/WDWLibrary.php
on line
1383Warning
: Undefined property: stdClass::$modified_date in
/home/users/dpjtuchow/public_html/wp-content/plugins/photo-gallery/framework/WDWLibrary.php
on line
1382Warning
: Undefined property: stdClass::$modified_date in
/home/users/dpjtuchow/public_html/wp-content/plugins/photo-gallery/framework/WDWLibrary.php
on line
1383Warning
: Undefined property: stdClass::$modified_date in
/home/users/dpjtuchow/public_html/wp-content/plugins/photo-gallery/framework/WDWLibrary.php
on line
1382Warning
: Undefined property: stdClass::$modified_date in
/home/users/dpjtuchow/public_html/wp-content/plugins/photo-gallery/framework/WDWLibrary.php
on line
1383Warning
: Undefined property: stdClass::$modified_date in
/home/users/dpjtuchow/public_html/wp-content/plugins/photo-gallery/framework/WDWLibrary.php
on line
1382Warning
: Undefined property: stdClass::$modified_date in
/home/users/dpjtuchow/public_html/wp-content/plugins/photo-gallery/framework/WDWLibrary.php
on line
1383Warning
: Undefined property: stdClass::$modified_date in
/home/users/dpjtuchow/public_html/wp-content/plugins/photo-gallery/framework/WDWLibrary.php
on line
1382Warning
: Undefined property: stdClass::$modified_date in
/home/users/dpjtuchow/public_html/wp-content/plugins/photo-gallery/framework/WDWLibrary.php
on line
1383Warning
: Undefined property: stdClass::$modified_date in
/home/users/dpjtuchow/public_html/wp-content/plugins/photo-gallery/framework/WDWLibrary.php
on line
1382Warning
: Undefined property: stdClass::$modified_date in
/home/users/dpjtuchow/public_html/wp-content/plugins/photo-gallery/framework/WDWLibrary.php
on line
1383